Apsara dance is known as a taste of classical Khmer culture. No visit to Cambodia would be perfect without enjoying at least one performance. Not only named as "Masterpiece of Oral and Intangible Heritage of Humanity" by UNESCO in 2003, Apsara is also described as "dance-drama" by most travellers once attending the performance. It is not merely dance but also to convey a meaningful story or message.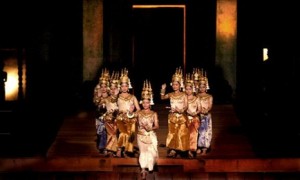 The graceful movements of the Apsara dancers
There are four main modern types of traditional Khmer dance: Classical Dance, Shadow Theater, Folk Dance and Lakhon Khol. In which, Apsara belongs to the first genre: Classical Dance and has become the most famous one. The Apsara Dance is inspired by the Apsara carvings and sculptures of Angkor and developed in the late 1940s by Queen Sisowath Kossamak. Her granddaughter, Princess Bopha Devi, was the first star of this charming dance. The Apsara is performed by a woman or a group of women, sewn into striking traditional dress. They're all graceful with sinuous gestures to narrate classical myths or religious stories. They wear a sampot sarabap, a type of silk brocade that is intricately pleated in  front.
Apsara is shorter and a bit more relaxed and flowing than most Classical dances, making it an excellent example of the movements, manner and spirit. Especially, Apsara is accessible to a modern audience unaccustomed to the style and stories of Khmer dance-drama. This traditional dance marks the national identity and soul of the nation in addition. It earned the excellence and was first performed in Siem Reap province, where Angkor Wat is located. The dancers are adorned with golden headdresses, silken tunics and skirts carved on many walls of Angkor Wat temple.
Don't forget to join an Apsara dinner with famous showcases in any Cambodian classical theatres and experience one of the best dances Cambodia has to offer.